Your shopping cart is empty.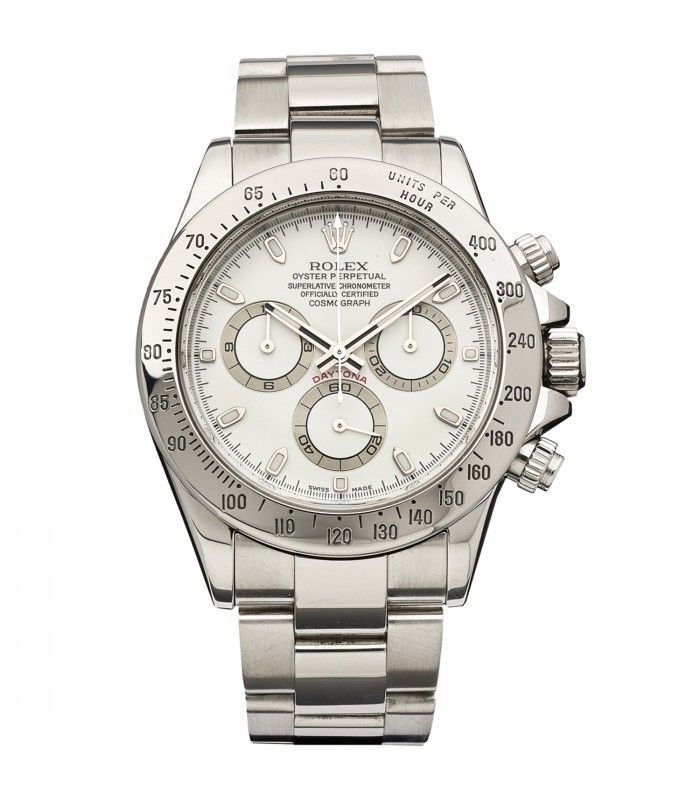 Montre Rolex Oyster Perpetual Daytona
There have been three series of the Cosmograph Daytona. The original series, produced in small quantities from circa 1963 to the later 1980s, had a four-digit model or reference number, and had a manual wind movement. The wind movement is essential to the other two movements because it allowed for increase winds coming in on both sides. The Rolex Daytona was inspired by racecar drivers and enthusiasts, most notably, iconic actor Paul Newman, who reportedly wore his Daytona every day from 1972 until his death in 2008. This original series was in very short supply by the early 1990s, which led to a second series to meet demand, introduced in 1988 and using a Zenith "El Primero" modified automatic winding movement, with a five-digit model number. The movement was originally manufactured and released in 1969 and remains the highest VPH (vibrations per hour) mass-produced movement on the market at 36,000 VPH. Rolex purchased these movements for the Daytona, and then modified the movement from 36,000VPH to 28,800VPH and made a few other subtle changes. These later series Daytonas, pre-dating in-house movements, were accurate and reliable; they were produced in limited quantities from 1988 to 2000. The third series, introduced in 2000, has a movement made by Rolex and a six-digit model number. The six-digit Daytonas are certified, self-winding chronometers with chronograph functions. Rolex sponsored the 24 Hours of Daytona car race, which became known as Rolex 24 at Daytona, from 1991, and named its chronograph watch after the race. Although Rolex continues to manufacture the "Daytona", the rarest Daytonas are the first versions with four-digit numbers, for example the 6238, 6239, 6240, 6241, 6262, 6263, 6264, and 6265 References, produced from 1961 to 1987. The 6238, 6239, 6241 and 6262 References were the first versions, and did not have the "Oyster" features of screw-down winding crown and screw-down timing buttons. The movement used was a manual wind Valjoux cal. 72, named the Rolex Cal. 722. The 6263, 6264 and 6265 References produced from 1970 were Oyster versions. The movement used remained based on the manual-wind Valjoux cal. 72, but with some refinements, and was called the Rolex Cal. 727. These Daytonas are very rare and very collectible. The movement has proven to be exceptionally reliable and accurate. In fact, the Cal. 727 was certified as a chronometer in some cases. The rarest Daytonas are those with what has been called the "Paul Newman" dial. It is said that Newman wore one of these watches, given to him by his wife Joanne Woodward when he took up automobile racing, from 1972 until his death in 2008. Its distinguishing features are subtle and often unnoticeable to the untrained eye. First, a Paul Newman dial must be in a Reference 6239, 6241, 6262, 6263, 6264 or 6265 watch, installed by Rolex Geneva as original. All of these References had acrylic domed crystals. That aside, the sub-dials (the dials that are the opposite or contrasting color of the main dial) of a Paul Newman dial have block markers instead of lines, have crosshairs across each sub-dial meeting at the centre (unlike the normal Daytona), and the seconds sub-dial placed at 9:00 is marked at 15, 30, 45 and 60, whereas a normal Daytona dial is marked at 20, 40 and 60. The dial may or may not have the word "Daytona" written on the dial above the hour sub-dial located at 6:00. The dial came in four color and layout combinations, and was installed as an option by Rolex on the Daytona line of watches in the Reference 6239, 6241, 6262, 6263, 6264 or 6265 watches. The watch went out of production in the early 1970s, and Rolex does not supply any replacement version of it. The original Daytona watches were not in demand when produced, and were relatively inexpensive ($210 + tax when introduced), but became highly collectible and fetched high prices at auction. In 2013, during a special Rolex-themed auction held in Geneva on 10 November, Christie's sold a rare Rolex Daytona Ref. 6263 in steel, manufactured in 1969, for 989,000 Swiss Francs (well over one million US dollars).
Our available items