Sell your goods
SELL YOUR GOODS
Located next to the Champs Elysées, at 20 rue de Miromesnil in the 8th arrondissement of Paris, our house welcomes private clients from Wednesday to Saturday from 11 am to 6.30 pm continuously and without appointment. In order not to come unnecessarily, we invite you to send us a picture of the goods you wish to sell by email using the contact form.
Whether It concerns second-hand jewels, signed jewels, antique jewels, diamonds, watches, gold coins or ingots. Regardless of their age, those pieces have often been passed on from a generation to the next within the same family. They have acquired an important sentimental value for the owners. It is the reason why it is difficult to assess their value in total neutrality. Only experts jewelers can make an objective assessment of your goods. This expertise is based on the material, artistic and historic value of each piece which must undergo a careful examination.
H
OW TO ESTIMATE THE REDEMPTION VALUE OF A GOOD ?
The estimate of luxury jewels, precious stones or watches require a specific analysis based on precise criteria which imposes a careful visual examination. The assessment of their price cannot be improvised and only a thorough visual examination is the guarantee of a reliable estimate. It is judged on specific criteria often not well known among the general public, that is why many persons may underestimate or overestimate the value of a good. This assessment takes into account many criteria often subtle:  scarcity, antiquity, general condition, micro-scratches, wear, type of frame, metal used, brand, model, artistic and historic value, etc.; Mikaël Dan house, established on the Parisian scene since 1989 and located next to the Elysée makes for you an objective assessment of your goods with an expertise based on a detailed examination.
W
HY SHOULD YOU TRUST MIKAËL DAN HOUSE ?
The Mikaël Dan house enjoys since many years an excellent reputation in the field of the assessment of jewels and watches. We let you benefit from our knowledge and from our expertise of the history of the jewelry and of the watchmaking. Our competence extends across all the ancient jewels, from the 19th century, but also the pieces of the Art Nouveau period (1895-1910)  but also to the original creations of Art Déco style (1910-1930) and of all your retro jewels of the 40's. Our database on the punches of the masters jewelers as well as a library referencing more than 200 books on the great names of the world jewelry and watchmaking allow us to be better informed and to carry out accurate and reliable estimates. Our team graduates in gemmology and Member of the European Alliance of the Experts provides to you the advice of professional experts. Our house has been exercising for the past 30 years always with the same passion. When you will visit our Parisian boutique, you will be able to benefit from an expert opinion for all your jewels and watches and for  the redemption of your ingots or gold coins. The diplomas that our experts have are a proof of their knowledge, but the necessity of a true experience in the field is essential. Our experts have worked for famous auction houses such as Christie's, Drouot or yet the Crédit Municipal of Paris, which gives you the guarantee of a good knowledge of the market. We propose to you  offers of purchase often superior to the ones of the market thanks to many opportunities, developed through our European but also international clientele  during our shows in Asia and North America. Since our demand is more diversified, it allows us to offer to you the maximum for your goods.
H
OW IS DONE THE EXPERTISE FOR THE SALE OF YOUR JEWELS , PRECIOUS STONES AND WATCHES ?
The Mikaël Dan house proposes to you a reliable expertise very discreetly. The transaction is done in front of you in a friendly atmosphere and takes into account the stock price or the quoted price of your piece. If our offer attracts your attention you will be paid immediately by check or bank transfer upon presentation of your ID.
D
O I HAVE TO PAY FOR THE ESTIMATE OF MY GOODS ?
Mikaël Dan carries out the expertise of your goods for free. This service is completely free of charge and without commitment.
The Mikaël Dan house, established on the Parisian scene since 1989, composed of expert watchmakers and jewelers graduated in gemmology lets you benefit from its knowledge and from its expertise.
Our Parisian boutique welcomes the individual clients from Wednesday to Saturday from 11 a.m. to 6.30 p.m. continuously and without appointment, at 20 rue de Miromesnil – 75008 Paris.

You will benefit from an expert opinion for the purchase of all your second-hand jewels, precious stones and watches.

The Mikaël Dan house – Expert jeweler and watchmaker – Member of the European Alliance of Experts, graduates from the National Institute of Gemmology and « Certified Diamond Grader » of the Antwerp HRD laboratory.
THE IMMEDIATE PURCHASE
Receive your payment immediately
After a specific expertise done in front of you and in all discretion, we offer you a fair purchase offer in line with the market.  You have time to reflect, to refuse or to accept our offer. If our purchase proposal attracts your attention, the payment is made immediately by check or by bank transfer upon presentation of your ID.
THE DEPOSIT SALE
Earn more by receiving your payment once the piece is sold
The amount of the deposit agreed together corresponds to the exact price which will be paid to you once the piece is sold. You can take your piece back at any time upon request. There is no deadline, as long as the piece is in our boutique, we do all we can to sell it for our common interest. Our international network through shows we are attending abroad allows us to shorten the selling delays including for the pieces which are more difficult to sell.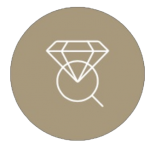 THE EXPERTISE
Have your goods estimated free of charge
You wish to know the value of your goods? Our house offers you its expert service. In our boutique and without appointment, our experts will estimate your pieces. This expertise is given on an indicative basis and orally, we do not deliver any certificate.
A TEAM OF EXPERTS AT YOUR SERVICE

More than 30 years of experience
Experts graduated in gemology
Experts graduated "Certified Diamond Grader" of the laboratory HRD Antwerp
Member of the European Alliance of Experts
Attentive listening and precise explanations on the value of your property
Higher purchase offers thanks to our international network
A family house close to its customers with a national and international network