Sell your coloured stones
SELL YOUR COLOURED STONES
Located next to the Champs Elysées, at 20 rue de Miromesnil in the 8th arrondissement of Paris, our house welcomes private clients from Wednesday to Saturday from 11 am to 6.30 pm continuously and without appointment. In order not to come unnecessarily, we invite you to send us a picture of the goods you wish to sell by email using the contact form.
The blue sapphire is the precious stone among the coloured sapphires, which may reach the higher amount. Sapphires exist in a multitude of colours, pink, yellow, purple, orange… The value of a stone will be higher if it does not show any imperfection or inclusion visible to the naked eye. Many aspects which can only be fully appreciated by a direct manipulation and never by phone or on the internet. You may however send a photo of your piece by mail in order to make sure that it corresponds well to the demand of the buyer.
H
OW TO ASSESS THE REDEMPTION VALUE OF A SAPPHIRE ?
The value of a sapphire is determined in part by its weight, expressed in carats (1 carat is equivalent to 0,20 grammes). It  also depends a lot on the purity of the stone, i.e. the presence more or less visible of inclusions and of crystals inside the sapphire. The stones of excellent quality display a remarkable translucency and are particularly sought after. Their colour ranges from blue pastel or very clear blue to a deep blue even dark. The same variety is found for the sapphires of colours ranging from the pale to a shade much more intense. The oval or the cushion are the two most  prevalent forms of cut sapphires. We propose to you purchase offers often superior to those of the market thanks to our many opportunities, developed through our European but also international clientele during our shows in Asia and North America. Our demand being more diversified, it allows us to offer to you the maximum for your goods.
W
HY SHOULD YOU TRUST THE EVE CAZES & MIKAEL DAN HOUSE ?
The Mikael Dan house established in Paris since more than 30 year, buys all your sapphires mounted or unmounted. Our experts are graduates in gemmology and specialists for the sapphire and its treatments through trainings at the Gemlab of Bangkok and the SSEF of Basel. Our house can propose to you an accurate and reliable assessment for any form of sapphire, pear, rectangle, square… You may require our assistance for any sapphire ring, but also for an unmounted sapphire if its weight is at least of 3 carats.
H
OW IS DONE THE ASSESSMENT FOR THE SALE OF YOUR SAPPHIRE ?
A thorough visual examination of the specificities of the stone done in front of you very discreetly will allow us to propose to you a serious purchase offer in line with the market. If our offer attracts your attention you will be paid immediately by check or bank transfer upon presentation of your ID.
M
UST I PAY TO HAVE MY SAPPHIRES ASSESSED OR TO SELL THEM ?
The Mikael Dan house carries out free of charge the assessment of all your sapphires. This service entirely free of charge is without commitment.
ATTENTION our house buys the sapphires from 3 carats per stone.
The Mikaël Dan house, established on the Parisian scene since 1989, composed of expert watchmakers and jewelers graduated in gemmology lets you benefit from its knowledge and from its expertise.
Our Parisian boutique welcomes the individual clients from Wednesday to Saturday from 11 a.m. to 6.30 p.m. continuously and without appointment, at 20 rue de Miromesnil – 75008 Paris.
You will benefit from an expert opinion for the purchase of all your second-hand jewels and watches.
The Mikaël Dan house – Expert jeweler and watchmaker – Member of the European Alliance of Experts, graduates from the National Institute of Gemmology and « Certified Diamond Grader » of Antwerp HRD laboratory.
THE IMMEDIATE PURCHASE
Receive your payment immediately
After a specific expertise done in front of you and in all discretion, we offer you a fair purchase offer in line with the market.  You have time to reflect, to refuse or to accept our offer. If our purchase proposal attracts your attention, the payment is made immediately by check or by bank transfer upon presentation of your ID.
THE DEPOSIT SALE
Earn more by receiving your payment once the piece is sold
The amount of the deposit agreed together corresponds to the exact price which will be paid to you once the piece is sold. You can take your piece back at any time upon request. There is no deadline, as long as the piece is in our boutique, we do all we can to sell it for our common interest. Our international network through shows we are attending abroad allows us to shorten the selling delays including for the pieces which are more difficult to sell.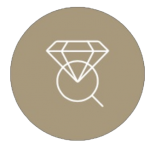 THE EXPERTISE
Have your goods estimated free of charge
You wish to know the value of your goods? Our house offers you its expert service. In our boutique and without appointment, our experts will estimate your pieces. This expertise is given on an indicative basis and orally, we do not deliver any certificate.
A TEAM OF EXPERTS AT YOUR SERVICE

More than 30 years of experience
Experts graduated in gemology
Experts graduated "Certified Diamond Grader" of the laboratory HRD Antwerp
Member of the European Alliance of Experts
Attentive listening and precise explanations on the value of your property
Higher purchase offers thanks to our international network
A family house close to its customers with a national and international network